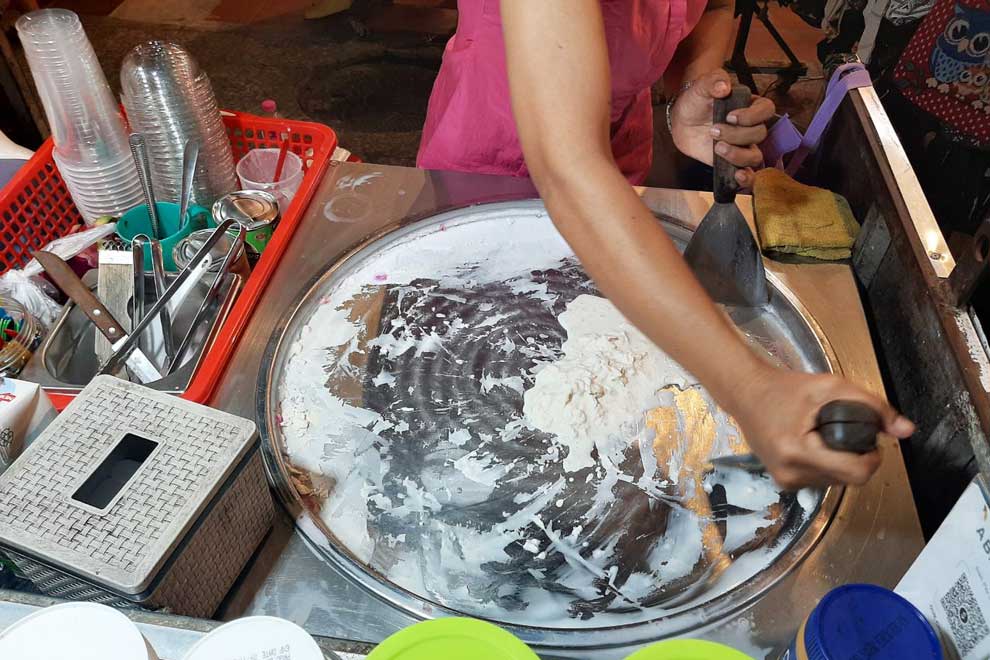 Originally from Thailand, stir-fried ice cream – also known as rolled ice cream – is a unique and attractive desert that has proven popular wherever it's served.
In Thailand, rolled ice cream is a street food that took off in popularity around 2012.
Seeing an opportunity, Cambodian Ouk Chanvoleak went to Thailand to learn how to make rolled ice cream and then opened a business in Siem Reap in 2014 on Pub Street, a famously busy area that optimally is filled with foreign tourists.
She had to spend a lot of capital – $4,000 – to start the business because she needed to buy an expensive machine to make the stir-fried ice cream.
According to Chanvoleak, in the beginning, she did not have a specific location she operated from, just a cart connected to a motorcycle that she and her husband moved around and the tuk-tuk she uses now could not drive onto Pub Street as it was not yet built.
But after a ban on all traffic on Pub Street, she and her husband set up a small stall next to a busy thoroughfare nearby.
From time to time, passers-by stop to watch her make the rolled ice cream and try the dessert. Her agility in frying ice cream on a metal plate, as well as the colourful hues of the ice cream made from fruits, helps attract a constantly shifting crowd to circle around her stall.
According to Chanvoleak, for almost 10 years now this business has been an important source of income to support her family, especially her two children.
"Before the Covid-19 crisis, I could earn 200,000 to 600,000 riel per night. But after the Covid-19 came, we don't have many tourists yet so the most I can earn is maybe 200,000 riel," she said.
As for the ingredients, she said that there isn't much to prepare like if you're making cakes, you just buy fresh milk, condensed milk, fruits and a few other simple ingredients.
All of it needs to be made fresh, so when she isn't selling at night she has plenty of time for doing housework or taking care of her kids.
Chanvoleak said her profits are about 40 per cent after deducting expenses, which is enough to support her children's education.
She operates her business from 3pm until midnight or even later as Pub Street is often at its most bustling and crowded late at night and into the early morning. She'd also like to expand the business to more locations because the need for money is ever increasing as her children grow bigger.
However, operating a business that depends so heavily on tourists has some marked disadvantages – mainly that if there are no tourists, she makes little money.
"Most business people here rely on foreign tourists and even before Covid. But they don't come to visit here every month of the year. Some months are their working period and we also couldn't earn much then," she said, adding that she's hopeful that tourist numbers will finally rebound next high season.